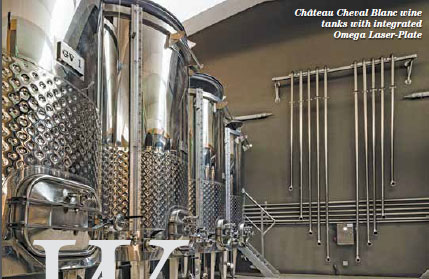 Wineries make careful choices when it comes to takes for fermentation and storage of their wines. And for the most part, the critical tank jackets for temperature control are chosen by the tank fabricators as part of the package. A fresh look at Omega Thermo Products, the manufacture of the jackets themselves, may lead to stronger choices for the individual winemaker.
The Omega group originated from the Netherlands with a U.S. entity in Wisconsin, has more than 40 years of combined heat transfer experience and is the original developer of inflatable laser welded heat transfer surfaces, welding more than a million square feet of heat transfer surface annually. Omega supplies many tank fabricators worldwide and in the United States with great results and a proven record.
Laser welding technology is a highly controlled process that gives Omega flexibility that results in a superior product for the United States market. Laser welding tank components is the process of attaching a jacket to a tank shell; the tank is then fabricated, and when fabrication is completed the jacket is inflated to create the thermal layer. The precision of laser welding can be done with controlled weld depth that results in no burn-through, pitting, or heat tint of the bottom sheet.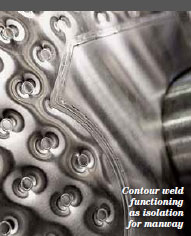 The protective poly on the product side of the material can be left in place during welding to protect the material finish and removed after tank fabrication is completed. Laser welding allows Omega to create patterns that can be used for either straight tank shells or conical shaped tank shells. Omega can also weld jackets for flat and flanged, dished and conical tank heads.
Omega Thermo Products is specialized in heat exchangers and tank components. Though they don't fabricate tanks, Omega can work with any tank fabricator without limitations. Omega offers free heat transfer calculations for optimization of the heat transfer jackets to assure proper performance of the application.
The flexibility in design of the Laser- Plate results in an exclusive product that can be customized per application, with flow passages throughout the jacket to optimize thermal performance, increase efficiency and save energy. The heat transfer jackets can also be personalized by implementing the winery emblem for an exclusive look of the wine tank. Omega has done several specialized projects over the years for well-known wineries in France in collaboration with tank fabricator Mangeard from Jarnac of France (www.mangeard.com).